"D'Banj Is An Enabler Of The Hardship Poor Nigerian Youths Go Through" – Reactions To D'Banj Arrest Over N-Power Fraud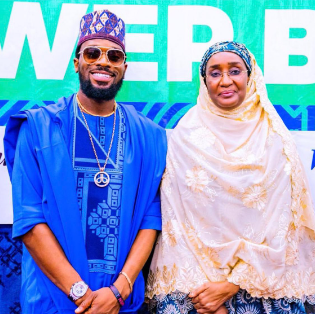 Nigerians on social media woke up to the surprising news of the arrest of singer Dbanj, by the Independent Corrupt Practices and other Related Offences Commission (ICPC).
Amid news of his arrest, Nigerians have since flooded the online community demanding that the authorities should also reveal the identity of government officials involved in the alleged fund diversion scheme.
Infoexpert24 learnt this in a statement signed by the Commission's spokesperson Mrs. Azuka Ogugua on Wednesday.
"The N-Power is a scheme established by President Muhammadu Buhari on 8th June 2016, to address the issues of youth unemployment and empowerment and help increase social development.
"In line with its mandate, the Commission had received numerous petitions on the diversion of N-Power funds running into billions of naira following the approval and release of such funds to the beneficiaries by the Federal Government. Many N-Power beneficiaries had complained over the non-receipt of the monthly funds in spite of payment by the Government.
"About 10 persons have been invited by the ICPC over the last few months in connection with the N-Power fraud, and have been granted administrative bail after their detention. Several invitations to Mr. Oladipo Daniel Oyebanjo, to appear before a team of investigators were ignored and not honoured.
"Mr. Oyebanjo turned in himself and was taken into custody at the ICPC Headquarters on Tuesday, 6th December 2022, and is currently assisting the investigators to unravel the circumstances of the fraud allegations by the petitioners.
"The investigation will be all-encompassing and also be extended to other collaborators of the fraud and the banks where the beneficiaries' accounts are domiciled.
"The press release becomes necessary to set the record straight in view of the reports awash in the media. The investigation is ongoing and the Commission prefers not to preempt its outcome and also avoid the frenzy of a media trial", the statement contained.
Below are some of the reactions by Nigerians on Twitter culled by Infoexpert24:
D'banj is an enabler of the hardship poor Nigerian youths go through. He robs them and still come to their faces to drop motivational quotes and endorsement deals on his IG.

— Jennifer (@Ifudiya) December 7, 2022
Incase you ate wondering how Dbanj got access to N- power funds . Here is how!!! pic.twitter.com/a1FU7Oly3q

— Mavis Ikpeme (@mavisikpeme) December 7, 2022
It is so disheartening that we have too many dishonest people in Nigeria, D'banj is not even poor, how can he be so unsympathetic to the poor youths that were unable to benefit from the Npower project because of his greed?

— Lady Altagracia (@tinabestify) December 7, 2022
Na Dbanj should use his mouth mention the Government officials name game them wan play and I doubt he will

— My💖₿ (@kobydada) December 7, 2022
Dbanj omo mess up I just hope this is untrue cause whyyyyyy conniving with the same government we ought to stand against for over 100 million naira 😑😑😑no wonder y'all artists won't stand against the government #Trending #dbanj

— Abigeal (@yusufabigeal50) December 7, 2022
Bro! They said D BANJ and some Govt officials diverted money. They mentioned DBANJ's name but didn't mention any govt officials.

Government officials are now "Unknown Fraud Men" UFM. 👍

— Idris (@Crhedrys) December 7, 2022