Elon Musk Opens Up About 'Brutal' Relationship with Amber Heard in New Biography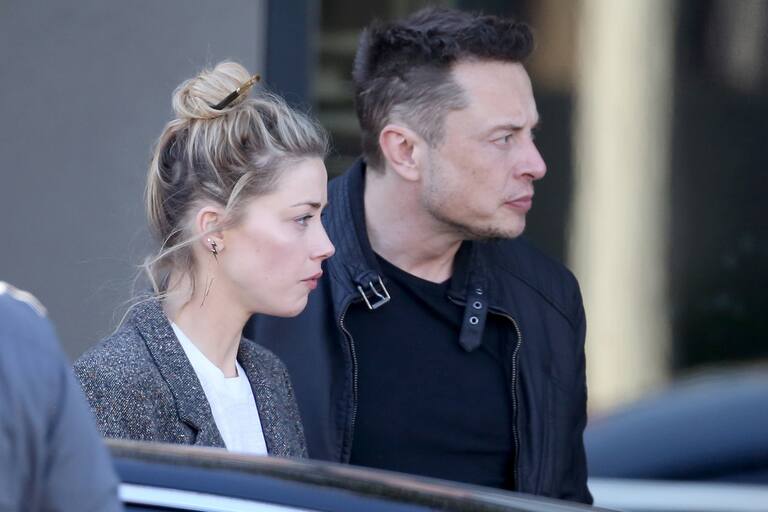 Elon Musk's latest biography has brought to light the tumultuous relationship he shared with Aquaman star Amber Heard.
The 52-year-old shared he was seeing Amber Heard in April 2017 after her public split from Johnny Depp, 60, which resulted in a massive legal battle.
They dated on-and-off for a year until they parted ways for good in 2018, when he confirmed a relationship with musician Grimes, 35, with whom he has three children.
Musk is rumoured to have been pursuing Heard, 37, since 2013 when she appeared in Machete Kills but their relationship ended up being 'brutal'.
Biography writer Walter Isaacson claims the Tesla CEO was drawn 'into a dark vortex' around the time they made things official.
He added: 'That lasted more than a year and produced a deep-seated pain that lingers to this day.'
According to The Los Angeles Times, Isaacson further claimed that Musk's 'brother and friends hated her with a passion' and described it as a 'hellacious' period.
They apparently met in 2014, when Heard went to SpaceX for a tour and was given a private drive in the founder's Tesla.
The Magic Mike XXL actress was reportedly fascinated by the tech mogul, and told the biography writer: 'I guess I could be called a geek for someone who can also be called a hot chick.'
During their relationship, Musk is said to have flown out to Australia to visit Heard while she filmed the DC hero film.
In a more intimate story, Heard ordered a costume to 'roleplay' as an Overwatch character which the Twitter owner said she looked like.
Things weren't all good though as the couple apparently had a major argument while on a trip to South America with the family in late 2017.
She admitted that there was an argument but shared pictures and videos of the pair all loved up as they had a New Year's kiss.
Heard had divorced Depp the year before, citing domestic abuse as a reason for the split and gaining a restraining order.
This began a series of legal trials, the first of which saw Depp sue The Sun Newspaper and it's parent company for calling him a 'wife beater' but lost as 'the great majority of alleged assaults had been proved to the civil standard'.
Following this case, Depp sued Heard for defamation following her article in the Washington Post titled I spoke up against sexual violence — and faced our culture's wrath. That has to change.
Depp alleged that Heard abused him instead and her claims had been a 'hoax', this trial was highly publicised with a messy fallout, impacting both actor's careers.
Eventually, in 2022, the case was settled after a verdict in Depp's favour which Heard argued was unfair due to the public perception of them both.
Kimbal Musk, Elon's brother, said his brother 'falls in love with these people who are really mean to him', calling it 'very sad'.
The chef added: 'They're beautiful, no question, but they have a very dark side and Elon knows that they're toxic.'
Isaacson claims that the SpaceX founder admitted the relationship 'was brutal' while Heard confessed she still loves him 'very much'.
The Danish Girl actress added: 'Elon loves fire, and sometimes it burns him.'
Aware of his own downfalls, Musk said: 'I'm just a fool for love. I am often a fool, but especially for love.'
The biography offers a rare glimpse into the intricacies of Musk's personal life and the challenges he has faced in his pursuit of love.
It's a reminder that even the most accomplished individuals are not immune to the complexities of human relationships.