Nigerians React As DJ Cuppy Gets Engaged To British Boxer Ryan Taylor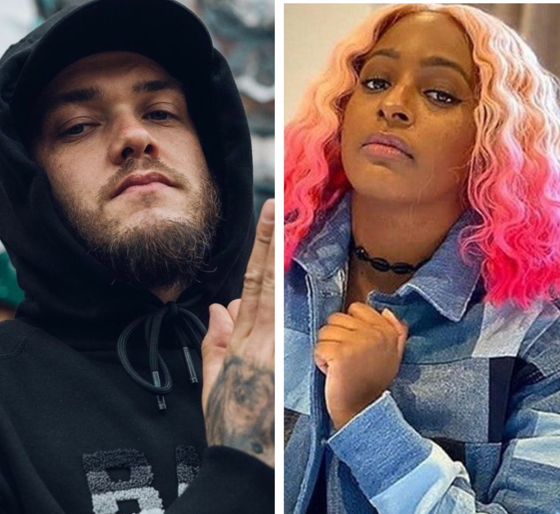 Florence Ifeoluwa Otedola, aka DJ Cuppy, is all set to walk down the aisle, as she recently just got engaged.
The video of her engagement set the Nigerian Twitter space agog as it shows the entertainer being proposed to in the presence of her close friends.
On Saturday, the disc jockey got engaged to her British boxer and Youtuber boyfriend, Ryan Taylor.
A video making the rounds on social media captured Taylor approaching her on a stage, going on one knee to ask for her hand in marriage.
Overwhelmed by the unexpected proposal, DJ Cuppy blushed from cheek to cheek, as she accepted the engagement ring. After the proposal, the duo shared a kiss, while the DJ played Bruno Mars' Marry You.
DJ Cuppy, who recently celebrated her 30th birthday and got a post-degree from Harvard University, is the second daughter of billionaire businessman, Femi Otedola.
Her engagement is coming about a year after her younger sister, fashion blogger, and actress, Temi, got engaged to her boyfriend, Mr. Eazi.
Soon after the video went viral, some users of the microblogging site have taken to their various handles to air their opinion about the news of the disc jockey's proposal.
See some of the reactions culled by infoexpert24 from Twitter:
@lollypeezle Tweeted: DJ Cuppy on Twitter moved from "I don't have a man" to "I'm engaged" skipping "I'm in a relationship"
That's how women do. "God when" "God when" but they are in a 4 years romantic relationship with one of the best guys in the world. Iro ti ba aiye yin je
@drpenking Tweeted: Temi Otedola got married to Mr Eazi, a multi-millionaire and super star musician.
DJ Cuppy is getting married to Taylor, a millionaire boxer. Women always marry their class or higher.
They won't look at your face if you aren't their class. When you finally make money as a man,
@Tee_Classiquem1 Tweeted: DJ Cuppy didn't even give anybody hint she's in a relationship, all she does is do photoshoot with dudu and funfun and hype their dad Asiwaju Lerry every 2 market days, a real definition of how you confuse your enemies, ibi te foju si, ona o gbabe rara
@OlisaOsega Tweeted: I just woke up and saw that DJ Cuppy is now engaged. This was someone who has always claimed to be single here. Lmao not everyone who tweets "God when" here is actually single. Some people are in a sweet relationship and are God whening with you.🤣Congratulations to Cuppy
@Solomon_Buchi Tweeted: I knew that Cuppy was definitely in a relationship and would get married soon. The thing is y'all don't see that DJ Cuppy is very wise and stern. She laughs with everyone but she knows what she's doing. Cracked it since that she's not as 'simple' as people think. She's amazing.