Manchester United Offered Chance To Sign 'Unbelievable' Player Who Snubbed Arsenal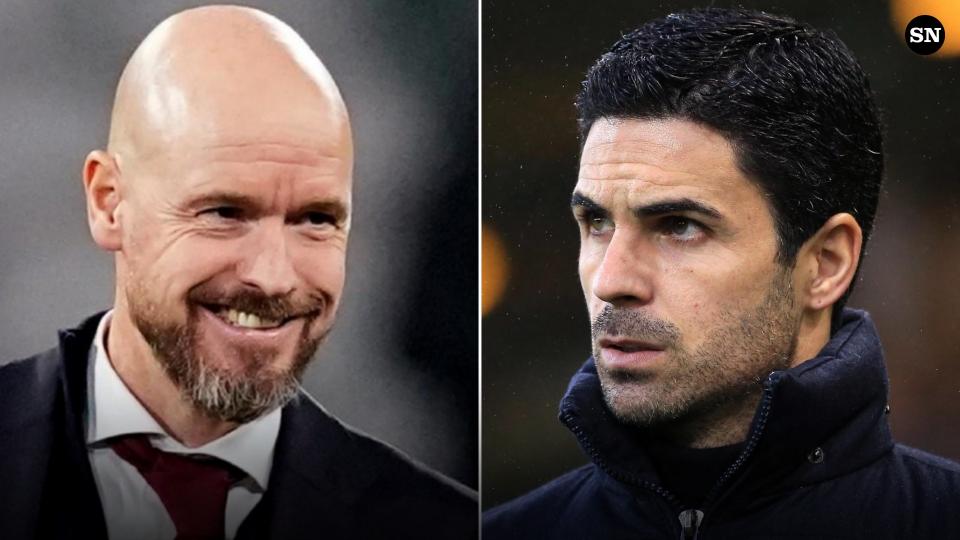 The Serbian striker looks set to leave the Italian side following the news that Juventus have been handed a 15 point deduction for previous transfer dealings.
The club intend to appeal the decision, but should they fail, the two-time Champions league winners would be demoted to 10th place in Serie A – leaving them with an uphill battle to finish in the European places.
And among those in the race for the 23-year-old's signature are Manchester United, with the club one of a number of European giants to be offered the striker, report 90min.
READ ALSO: Fans React As Eddie Nketiah Scores Dramatic Winner Against Man United After Tight VAR Call

The player turned down a move to join Arsenal this time last year, with Sky Italy reporting that his agent was not considering moves to Arsenal or north London rivals Tottenham, instead favouring to stay in Italy.
The Red Devils are expected to face plenty of competition from Premier League rivals Chelsea and Arsenal – as well as Paris Saint-Germain and Bayern Munich, all of whom have been made aware of the Serb's availability.
Arsenal are still said to be on the lookout for a centre forward to cover for Gabriel Jesus's injury, with Eddie Nketiah currently the only senior striker at the club.
However, plenty of Gunners fans think the club should not invest and are keen to give him a taste of his own medicine.
Juventus reveal asking price
According to Italian news outlet
La Repubblica
, Juventus are demanding a fee of €110 million to sell Vlahovic to another club, similar to what Chelsea paid for 
Mykhailo Mudryk.
Journalist Dean Jones described Vlahovic as 'unbelievable'. He has had a decent start to life at Juventus, netting 13 times in 25 league appearances. But his time at Juve has been punctuated by injury, having missed the last eight games.
Dusan Vlahovic (born 28 January 2000) is a Serbian professional footballer who plays as a striker for Serie A club Juventus and the Serbia national football team.
Following his graduation from Partizan's youth system, Vlahovic made his first-team debut in 2016, winning a league title and two Serbian Cups in the process. Following that, he moved to the Italian club Fiorentina in 2018.
Vlahovic had 21 league goals in Serie A during the 2020–21 season, earning him the title of Serie A's Best Young Player.
After an impressive goalscoring run in the first half of 2021-2022, Italian rivals Juventus signed the 24-year-old in January 2022 for a reported fee of €70 million.
Former Serbia youth international, Vlahovic has represented his country at a number of levels of youth before making his senior international debut in 2020 during the UEFA Nations League. He also helped his nation qualify for the 2022 FIFA World Cup.
READ ALSO: Rio Ferdinand Sends Message To Arsenal Fans After Mudryk's Chelsea Debut
5 things you need to know about the Arsenal target Dusan Vlahovic:
1. Early starter
Back when Vlahovic was with Partizan, the Gunners bid £2m for his services, which was dismissed out of hand.
In fact, the lanky striker made his debut for the Serbian side back when he was just 15 years of age. He's also the youngest-ever goalscorer for Partizan Belgrade and the youngest-ever player to have appeared in the fiery Eternal derby between Partizan and Red Star Belgrade. Vlahovic actually broke future Real Madrid star Luka Jovic's record, on that front.
Vlahovic can credit developing physically from an early age with his quick rise. He was playing mostly with older players when he played at the Altina Zemun football school as a child.
2. "I am Zlatan"
As with so many taller, physical strikers of the 21st Century, Vlahovic idolises Zlatan Ibrahimovic and holds the AC Milan forward as his personal hero.
"He never allows anyone to command him," Vlahovic said of the striker, also of Eastern European descent. "After the match in Florence in which we lost 3-2, he scored, after the match I said, 'He's probably fine now, he's not very angry. I'll see if I can take the opportunity to get his shirt'."
According to former Manchester City striker Valeri Bojinov, who played with Vlahovic at Partizan, the youngster goes as far as believing he actually is the super Swede.
"Vlahovic was crazy, really crazy," Bojinov claimed. "He used to tell me: 'I am a Zlatan Ibrahimovic from Belgrade, I will play for the strongest clubs.' I liked his arrogance."
3. Daylight Ribery
Not many midtable Serie A 21-year-olds can claim to have had world-class footballers play a big part in their development. Vlahovic attributes part of his incredible mentality to one of the elite footballers of the past decade or so, though.
When Franck Ribery was at Fiorentina, the French superstar was apparently quite an influence on a young Vlahovic, helping to shape him into the player he is today.
"When I was down, he spoke to me and told me to never give up. That's how I understood what it means to be a champion on the pitch and in life," the Serbian said of Big Franck.
READ ALSO: Chelsea's Mykhailo Mudryk Shares Fan Chant Mocking Arsenal [Video]
4. Goal machine
It's never a bad thing to draw comparisons to Cristiano Ronaldo, is it? While CR7 didn't achieve quite what he wanted to in Italy, he set a few records and one of them was equalled last year by Vlahovic.
Vlahovic managed a whopping 33 Serie A goals in a calendar year, just before Christmas. That matched Ronaldo's tally from the previous 12 months.
In fact, the only players with a better xG in Europe's top five leagues than Vlahovic this season are Robert Lewandowski, Ciro Immobile, Mohamed Salah, Patrik Schick, Kylian Mbappe and Diogo Jota. Not bad company to keep at all.
5. Three-fingered salute
After helping Serbia to the World Cup in Qatar, Vlahovic was pictured after the game making a three-fingered salute with his team-mates. Speculation on social media went into overdrive as to what the gesture meant.
Arsenal fans were particularly worried. Should Vlahovic join the north Londoners, there might be a rivalry between him and Granit Xhaka, who famously celebrated a goal against Serbia with a hand gesture representing the flag of his ancestral Albania. Serbia and Albania have in the past, let's just say… not got on.
It's commonly called the Serbian salute and originally expressed Christianity's holy trinity. The salute is used in oath-taking in Serbia, often accompanies the nation's flag and is used as a gesture of national pride, so shouldn't be viewed as necessarily antagonistic.