Piers Morgan 'Under Fire' For 'Misogynistic Remarks' Over Madonna's 40th-Anniversary Tour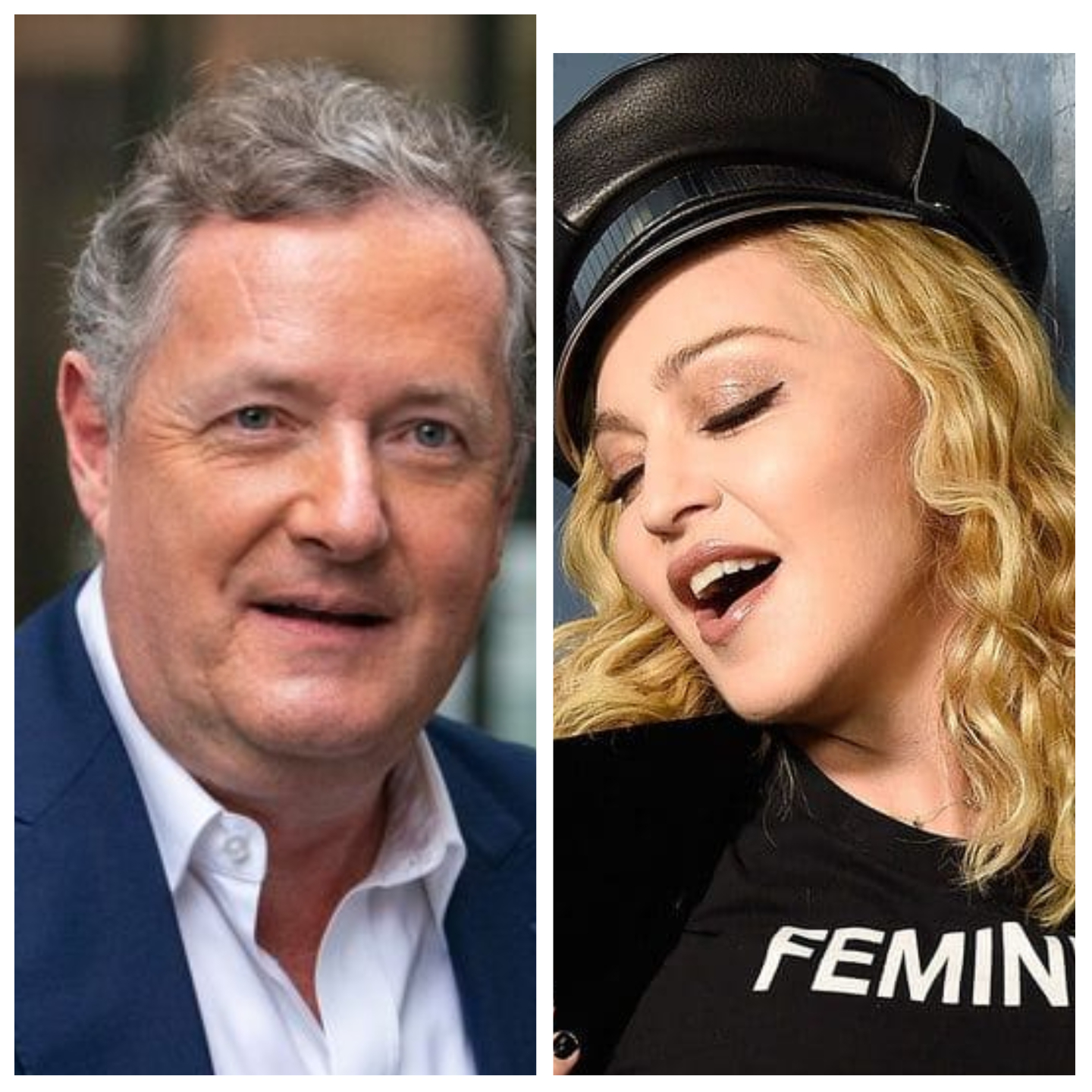 British broadcaster and journalist, Piers Morgan has been called out over remarks he's made about Madonna ahead of her 40th-anniversary tour, with his comments labelled 'misogynistic' and 'se*ist'.
On Wednesday's episode of the broadcaster's TalkTV show, Piers Morgan took several moments to express his aversion to the Vogue singer, and the way in which she announced her upcoming worldwide tour.
The 64-year-old revealed the news in a video featuring A-list stars including Jack Black and Amy Schumer, in which the group played a NSFW game of truth or dare.
Ahead of the latest instalment of Piers Morgan Uncensored, the 57-year-old tweeted: 'I think Madonna's become the biggest cringe-making fiasco in world entertainment.'
"I think she's become the most grotesque, train wreck embarrassment in the history of world entertainment!"

Piers Morgan doesn't hold back as he tells Jeremy Kyle exactly what he thinks of pop legend Madonna…@JKyleOfficial | @piersmorgan | @piersuncensored | #JKLive pic.twitter.com/mbyy2pZWgn

— Jeremy Kyle Live (@JeremyKyleLive) January 18, 2023
Then on the programme, he expressed his view that Madonna was a 'hot mess' who 'should be put out to pasture', while lambasting her for doing 'the whole trying to be an s*x kitten thing when you're in your 60s'.
Piers  Morgan brought up a series of X-rated pictures the musician previously shared on social media, including one that showed her lying underneath a bed with her bare backside on display.
The host quipped that he would describe Madonna as hitting 'rock bottom' in a headline, before locking horns with former X Factor judge Louis Walsh over her upcoming tour.
'She's iconic, she's one of the biggest pop stars ever, you just don't like her,' said Louis, 70.
Meanwhile, Piers suggested that she should do the shows while sitting in a rocking chair, much to Louis' shock.
On Twitter, one person called for the broadcaster to 'apologise for your misogynistic remarks about Madonna tonight calling her a "sweaty mess"'.
Below are some Twitter reactions from fans culled by infoexpert24:
So @piersmorgan a fat bloated late middle aged BOF and skill, talentless and probably tone deaf has the audacity to suggest that @Madonna is past it. Think you need go sit in a dark room and take stock of what success is, phone hacking ain't one. He is unknown in most countries

— the talkin' wall 💙 💛🐝 (@iPodista) January 19, 2023
Imagine if you a grown man stopped trying to make a living by bullying people ?? At least Madonna actually has an extensive career unlike you and your utter pondlife bullying ways ! You are an embarrassment

— Vicky Hungerford (@Vickyhungerford) January 18, 2023
Madonna is an Icon without hesitation, a musical Chameleon who can re- invent themselves time after time , unlike the formulaic artists of today's music scene , like Elvis ,many imitators but there is only one Madonna

— Neil Piper (@NeilPiper2) January 18, 2023
You are not or will ever be in the same league as @Madonna She is the biggest selling female artist EVER 400 million plus record sales, She's got nothing to prove to ANYONE ESPECIALLY YOU WOMAN HATER

— Richard Harvey-Mears (@RichardHarveyM1) January 18, 2023
So @piersmorgan you have vented your fury at Madonna because she's decided to tour at the age of 64 saying she's to old and haggard do you have the same opinion on Elton John or is it because she's a woman

— Chip barm (@chipbarm67) January 19, 2023
Gosh Piers Morgan obviously has a copy of the Manual for Older Women- tells them what to say, what to do, what to wear, what to think….. thank dog for all those middle age white men telling us what to say, think & do 🤣🤣🤣🤣 And no Piers, u haven't aged better than Madonna pic.twitter.com/qzYM4hQU0U

— AlisonAbraham (@AlisonA02620688) January 19, 2023
piers morgan making gross ageist remarks about madonna is nothing new, considering that he's been making gross ageist remarks about her since she was in her early 30s.

— prinskipper skipple (@humanrinds) January 19, 2023
Madonna doesn't see you Piers. You're so far below her that you're a microscopic bacteria in her lens. Can't focus on Meghan any more so you need another successful woman beginning with M to trash? You're pathetic.

— Bortoli (@Irish_Voice) January 19, 2023
Another lame attack on a highly successful female artist by a not so successful hack desperate for views and devoid of any ideas. They will be playing Madonna and talking about her influence long after you have shuffled off.

— moco scribe (@mocoscribe) January 19, 2023