Fan's Reactions As Tom Brady And Son Soak Up The Sun In Sweet Poolside Pic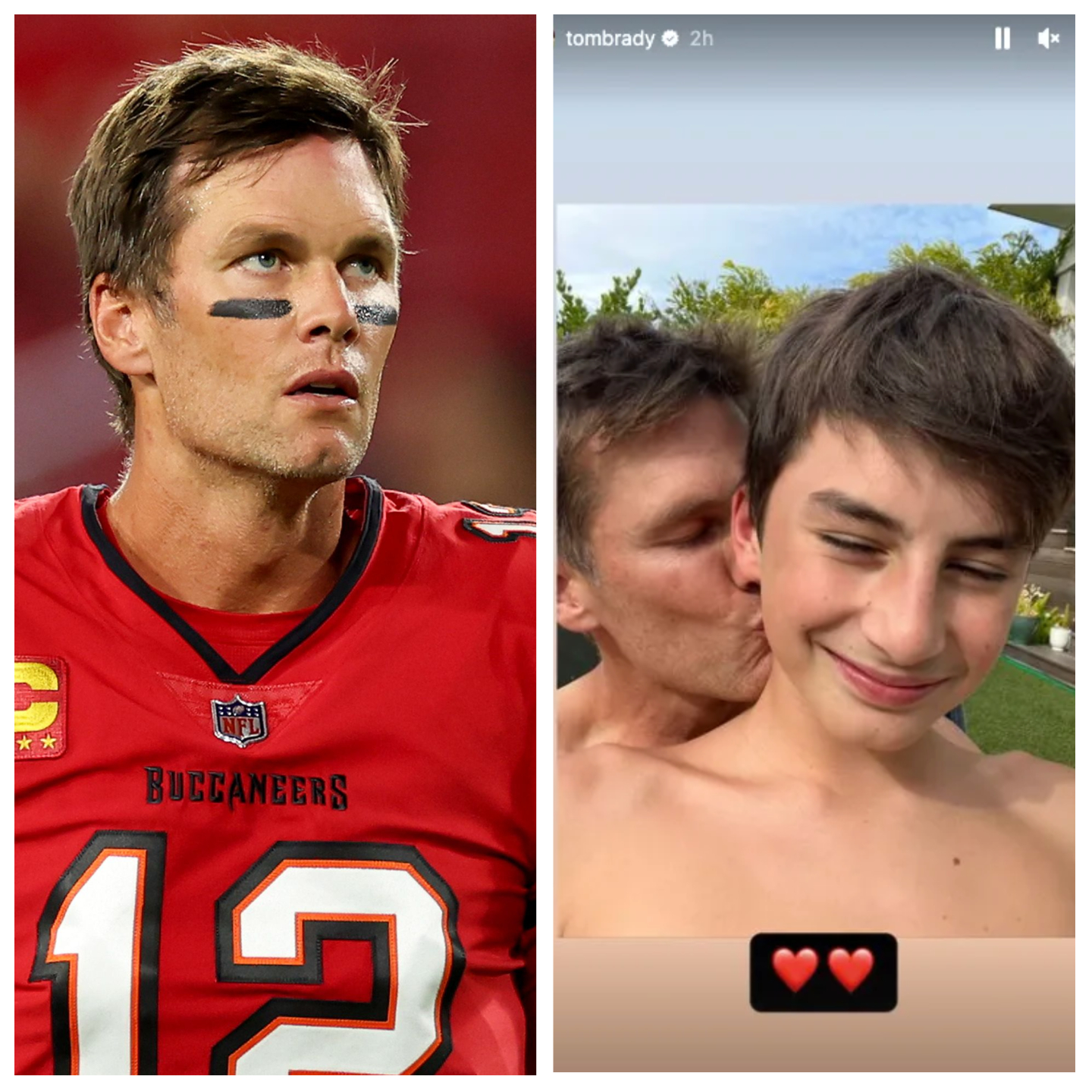 Tampa Bay Buccaneers football quarterback Tom Brady's poolside photo with his teenage son, Benjamin has fans gushing.
He might have seven Super Bowl championships under his belt, but Tom Brady's latest Instagram proves he has other wins to smile about.
On Dec. 30, the Tampa Bay quarterback took to Instagram story to share a couple of pictures of him and his son Benjamin basking in the post-Christmas season.
"Love this boy," he wrote in his story, which featured his son's legs tucked between his own as they lounged by a pool.
The next photo shows Brady pecking the back of Benjamin's head as they both smile with closed eyes.
Brady shares Benjamin, 13, and daughter Vivian, 10, with his ex-wife and model Gisele Bundchen, whom he finalized an amicable divorce with earlier this year.
The footballer is also father to son Jack, 15, whom he shares with actor Bridget Moynahan.
On Dec. 19, Brady appeared on his podcast "Let's Go! with Tom Brady, Larry Fitzgerald and Jim Gray" and revealed that he would be spending Christmas without his children for the very first time.
Instead of celebrating with his three children, the athlete took to the field with his team, the Tampa Bay Buccaneers, as they played against the Cardinals at State Farm Stadium in Glendale, Arizona.
"I'm going to learn how to deal with Christmas Eve in a hotel," Brady explained. "I'm going to have to learn how to deal with Christmas and Christmas night and still go out there and be a professional and then look forward to celebrating Christmas with my kids the day after, which is part of what football season has been for a long time."
He did, however, reunite with his children days after. On Dec. 27, the athlete posted a photo on his Instagram story of his children standing in front of the Christmas tree.
Below are some reactions from fans on Instagram:
aishagetfit:This is what affection looks like between father and son…a lot of people don't recognize what it looks like because you've never seen it. I would definitely put my 13 year old daughter on my lap to do a "leg" pose and I would definitely kiss my children on their necks. #WeNeedToHeal not everything is sexual or malicious. This is why our boys/men are afraid to show their soft side/affection.
marquetta.stokes: If your father never showed you genuine love just say that ! Because we stay kissing on our son and will continue to do when he grows. We don't need to show tough love over here !
itsjulianking: complain about men not being in their kids lives, and then complain about how they show THEIR son love. It just goes to show you that most in these comments still have unhealed trauma, and instead of dealing with it, they're projecting in the comments. It's plain as day. I'm so glad this boy won't grow up and have problems with affection and physical touch while navigating dating and relationships, because he first received it at home. It starts at home. Happy New Year everyone
geronimo62: Ngl as someone who grew up with a father who didn't know how to express his love, this is pretty sweet and you are never too old to love your kids. Everyone who is thinking about this in a weird way is out of pocket
yanez1020: It's called loving your kid regardless of their age, some people have not experienced true, unconditional love from their parents to understand this. I am in my 30s and still sit on my moms lap whenever I fly out to visit; forever her little girl.
ray995: So many of y'all didn't receive love and affection from your father growing up, and that is why this is weird to y'all.