Nigerians React As Nollywood Actor Yul Edochie Reveals Second Wife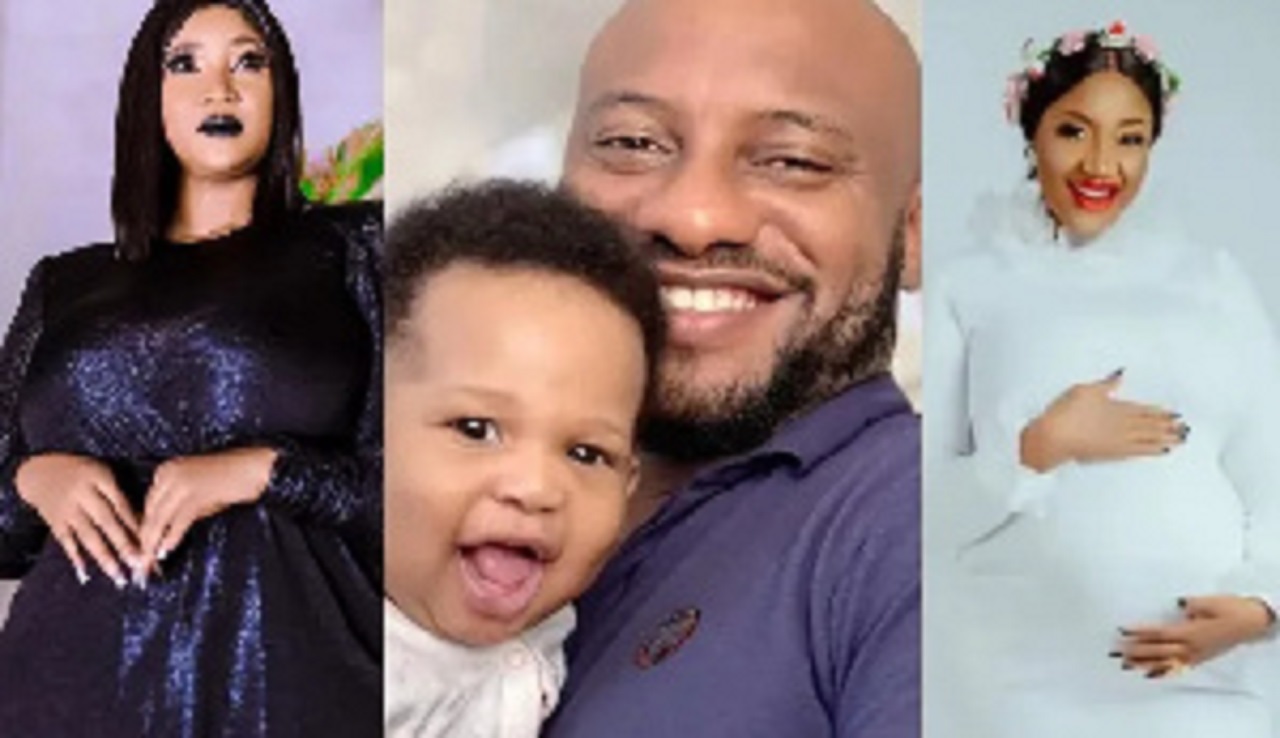 Nigerians have reacted to the surprising news of Nollywood actor Yul Edochie marrying a second wife.
Infoexpert24 reports that Yul Edochie on Wednesday presented to the public his second wife, Judy, and also showed off his son by her.
He wrote: "It's time for the world to meet my son. His name is STAR DIKE MUNACHIMSO YUL-EDOCHIE.
"Born by my second wife @judyaustin1 And I love him so much, just as much as I love my other children."
The news about the second wife and child did not sit well with the actor's first wife who then reacted to trending pictures of her husband and another woman, Judy Austin Muoghalu, whom the actor described as his second wife as well as their child.
May Yul-Edochie, who married the actor 17 years ago and has 4 kids with him, reacted to Yul's post expressing her displeasure over the post.
She wrote, "May God judge you both."
Her comments have since generated conversations on social media, with many attacking Judy.
Edochie's second wife's revelation comes as a shock to many of his fans who had no idea of the development.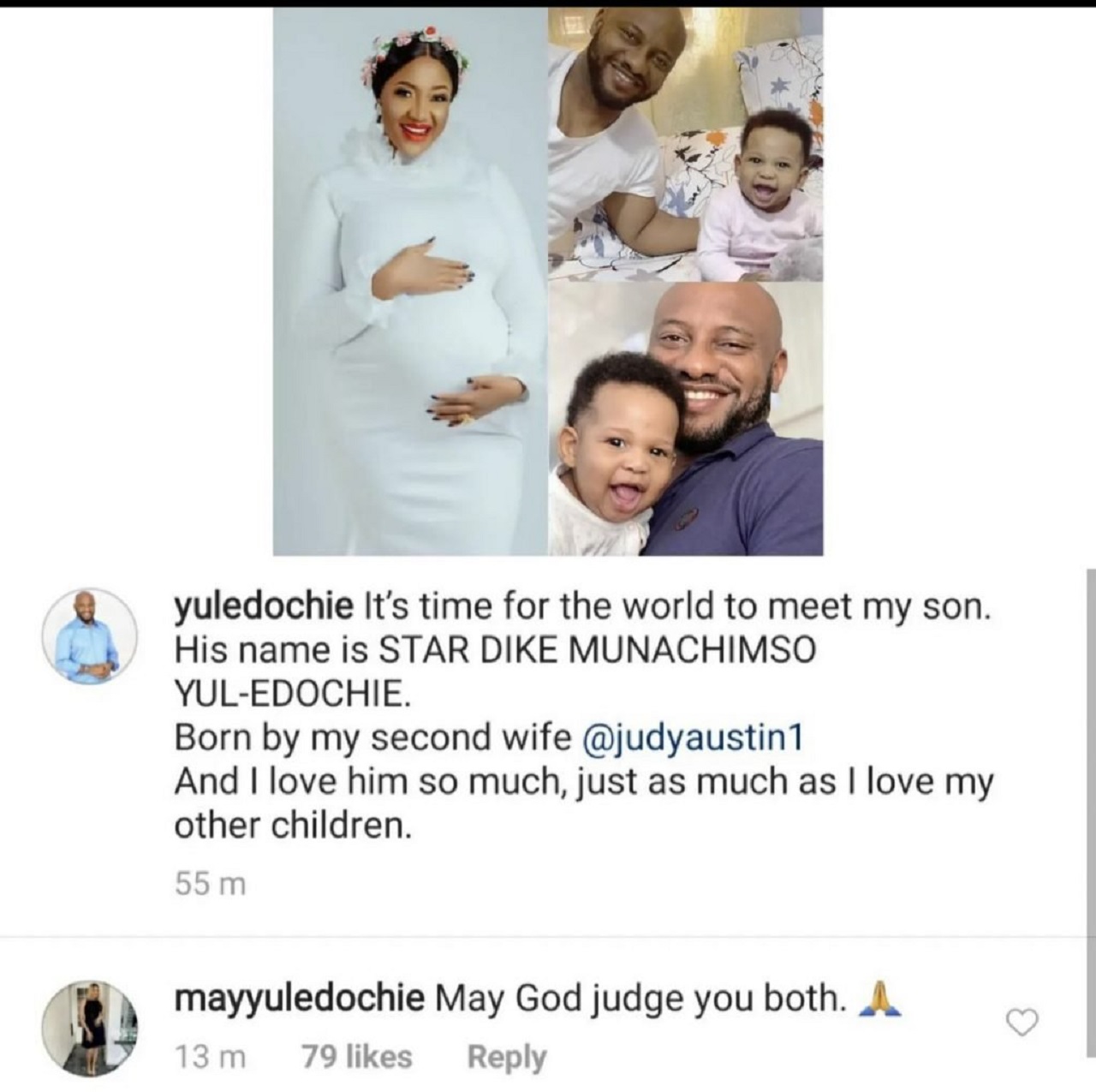 Below are some of the reactions by Nigerians on social media culled by Infoexpert24
If Yul Edochie's wife was the one who had a baby with another man, Nigerians will drag her to filth & cancel her, but Yul is getting away with his act cos he's a man; The double standards practiced in today's society is beyond d!sgusting. Men practically get away with everything.

— Daniel Regha (@DanielRegha) April 27, 2022
My own is just as Yul Edochie has come out publicly to claim a child from his second wife, I encourage all women to also come out with the children they had for other men whilst in their happy marriage🧐….. Ka Ekete kwupú Ike🤗

— Nwa Bia Ije🇳🇬 (@fazfunkie) April 27, 2022
This Yul Edochie news is another proof that until thy kingdom come, single ladies will never stop finding successful married men attractive, I've seen several women who said they prefer dating married men than single guys bkoz they are more mature and take care of them very well

— OMOTAYO Of Lagos 💥 (@Tee_Classiquem1) April 27, 2022
Yul Edochie did nothing honorable, this is clearly a case of cheating that went wrong, if he wanted to become a polygamist, he would have honorably married her before getting her pregnant. Moreover, he is a Christian, unless he has denounced Christianity.#Yuledochie pic.twitter.com/PkwijDHnum

— Cjay🌎 (@AnyanwuMalachy) April 27, 2022
She already had 2 other kids from 2 different men, who did not marry her. She had a kid for Yul Edochie & he married her. Now, there are these 3 kids who will have a father figure in their lives cos Yul decided to do the right thing. Ndewo nu 😑

— KWEKU THE HUSTLER, FARAWAY CHASING GWALALA 🙏🏾 (@urchilla01) April 27, 2022
Even women who are dating married men and using married men to survive are talking shitt about Yul Edochie, you'll soon get pregnant for your sugar daddy, just chill.

— Shola (@jayythedope) April 27, 2022
Yul Edochie should just kiss goodbye to his Presidential ambition. He doesn't stand a chance before, now it's completely blown away.

— A$AP Lerry (@_AsiwajuLerry) April 27, 2022
Yul Edochie is a brave and courageous man after defiling the institution of marriage! Mercy Aigbe is a prostitute when she marries another woman's husband. Cancel culture is a bad thing

Social Media is full of wierd people.

— MaziPita (He/Him) 🇳🇬 🇬🇧 (@Mazipita) April 27, 2022