Dollar Crashes At Black Market As Naira Gains Massively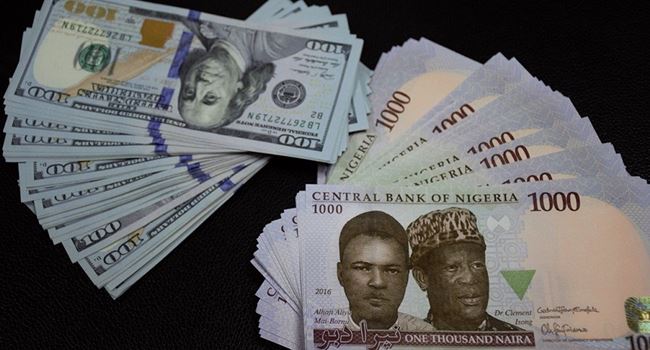 Infoexpert24 reports that the American official currency, the dollar crashed at the parallel market also known as the black market on Monday, November 1, trading at ₦565 per dollar with Bureau De Change (BDC) operators buying at ₦555 per dollar as at 9:15 am in the Lagos market as monitored by Infoexpert24
IMPORTANT NOTE: Please note that the exchange rate changes hourly.… it depends on the volume of dollars available and the Demands. What it means is that…you can buy or sell 1 dollar at ₦565 and the price can change (high or low ) within hours.
Infoexpert24 reports that while BDC operators popularly known as Abokis in the parallel market (black market), bought dollars at ₦555 per dollar and sold at ₦565 per dollar on Monday morning
Infoexpert24
reports that at the official market, the exchange rate between the
Naira and the US dollar 
according to the data posted on the 
FMDQ Security Exchange
 where 
forex is officially traded
 showed that the naira opened at 
₦414.12 
on Monday morning after closing 
₦415.10
. This represents a change of -0.09%.
How much is the exchange rate of the Dollar to Naira in the Black Market today?: Lagos parallel market (black market dollar exchange rate today)
Infoexpert24 reports that in the black market, the players buy a dollar for ₦555.00 and sell for ₦565.00 on Monday morning, November 1, 2021, after they bought N560 and sold N569 last Friday, 29 October 2021.
Even though the dollar to naira opened in the parallel market at ₦565 per $1 today, Infoexpert24 reports that the Central Bank of Nigeria (CBN) does not recognize the parallel market, otherwise known as the black market. The apex bank has therefore directed anyone who requires forex to approach their bank, insisting that the I&E window is the only known exchange.
Dollar Crashes At Black Market As Naira Gains Massively
Meanwhile, Infoexpert24 reports that the dollar to naira exchange rate today is coming after Nigeria's Vice President, Prof. Yemi Osinbajo, called on the Central Bank of Nigeria (CBN) led by Godwin Emefiele last month to allow the naira to reflect the realities of the market.
The Vice President had said the exchange rate is artificially low and deterring investors from bringing foreign exchange into the country.
"Prof. Osinbajo is not calling for the devaluation of the Naira. He has at all times argued against a willy-nilly devaluation of the Naira," Laolu Akande, spokesperson to Vice-President had explained in a statement.
"For context, the Vice-President's point was that currently, the Naira exchange rate benefits only those who are able to obtain the dollar at N410, some of who simply turn round and sell to the parallel market at N570.
"It is stopping this huge arbitrage of over N160 per dollar that the Vice-President was talking about. Such a massive difference discourages doing proper business, when selling the dollar can bring in 40% profit!
"This was why the Vice-President called for measures that would increase the supply of foreign exchange in the market rather than simply managing demand, which opens up irresistible opportunities for arbitrage and corruption.
"It is a well-known fact that foreign investors and exporters have been complaining that they could not bring foreign exchange in at N410 and then have to purchase foreign exchange in the parallel market at N570 to meet their various needs on account of unavailability of foreign exchange."