Nigerian Superstar Afropop singer Ayodeji Balogun popularly known as Wizkid has sold out The O2 Arena in 2 Minutes and fans are going heywire.
Wizkid keeps breaking his own record as he becomes the first African Artist to achieve that feat.
Wizkid announced the date for his "Made In Lagos" Album tour taking place at the O2 Arena, London United Kingdom, and the tickets for the show sold out within 2 minutes.
Nigerians are going 'gaga' on social media as they couldn't believe that Wizkid sold out the 02 Arena 3 times in one day.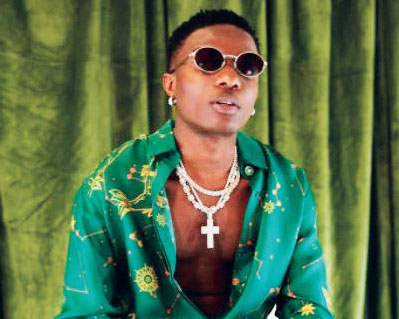 Below are some of the reactions Infoexpert24 gathered on Twitter;
@EdmundOris
Stop comparing any Nigerian artist to Wizkid, it's disrespectful to everything Wizkid has done, is doing, and will do.
He's clear and I'm happy that since Made in Lagos album dropped it's now clear for the whole world to see. Wizkid na No 1 full stop
@Mista_Mdee
Wizkid sold out 02 Arena Twice on the same day. This shit is crazyyyy Goat
@DrOlufunmilayo
Wizkid sold-out O2 Arena in 12minutes.
He added a second date and that sold out in 2 minutes. He then added a third date and that is already sold out in 35 minutes. This is O2 ooooo.
Not National Theatre Iganmu. Wizkid is clearly and now definitely the greatest artist of this era.
@itzbasito
02 arena that Burna couldn't sell out for months..we were thinking maybe it was bcoz of the covid UK people didn't pull up ..E reach Wizkid turn.. Baba turn 02 arena to 02 academy Loudly crying faceLoudly crying face…12mins, 2mins & 35mins ..machala KO wrong na Face with tears of joyFace with tears of joy
To everybody that thought Wizkid peaked years ago, hope you can see now that Wizkid is still far from his peak, his prime years are still right in front of him, he keeps on reaching new peak every year Exploding head
@Letter_to_Jack
Wizkid has exceeded all expectations even the wildest ones. Every achievement of his from now on will not only be a Nigerian record, it will be an African/world record. He is primed to take over the world.
@SOUNDCITYtv
Wizkid just sold out the second date for his O2 concert in 2 minutes.
2 M I N U T E S.
Lol let's be honest, currently Wizkid is CLEAR OFF everyone in the Nigerian music industry. I'm a Davido fan but truth has to be told. Currently right now, Wizkid is Number 1 in the game. If you're denying this then you're living in self deceit. Davido management no dy try.
This year Wizkid decided to set a record that no African artist dead or alive will be able to break. Shey baba wan retire for this music tin ne? bcoz this is too much record for an African artist in a year…the 02 need to acknowledge wiz as the best of the best
SOLD OUT!!!!! In 2 Minutes.
UK Love you Love Love You ❤️🇬🇧🇬🇧 pic.twitter.com/lAawdRDVnu

— Wizkid (@wizkidayo) September 3, 2021
EXTRA DATE ADDED: Due to phenomenal demand, @wizkidayo will play a THIRD date at @TheO2 on Wednesday 1st December! 🔥🔥🔥

Tickets are on sale now. Secure yours before they are gone 👉 https://t.co/YghSCAFpfD pic.twitter.com/u4HznuGJnK

— Live Nation UK (@LiveNationUK) September 3, 2021
.@wizkidayo becomes the first African Artist to Sell Out The O2 Arena 🇬🇧 In 2 Minutes, breaking his first record as the first to sell out the Arena in 12 Minutes❤️🖤🦅!

— Abdul❤️ (@BigMallyy) September 3, 2021
@wizkidayo 's grace is divine! 3 days crusade of BIG WIZ vibes at 02 is unbelievable. Man just set a new record…. Pure #Greatness

— DJ Neptune #MusicMessiah #Greatness (@deejayneptune) September 3, 2021
I think I should unstan Wizkid & focus on Big Wiz.

It's very tough stanning two goats at the same time 😪

— Rinu #EndSARS🔥🔫 (@SavvyRinu) September 3, 2021