As the crisis in Afghanistan continues, people are seen falling from a plane trying to flee Afghanistan Capital.
Infoexpert24 reports that a number of stowaways appear to have fallen to a horrific death from an aircraft leaving Kabul.
People have been trying to escape Kabul after the Taliban insurgents overthrew the government and took over the Afghanistan presidential palace.
Footage uploaded on social media shows countless people jumping aboard the outside of a US Air Force plane seemingly trying to take off from a runway in the Afghanistan capital.
In one footage, as an Apache helicopter attempts to clear the runway, it was flooded with locals desperately trying to escape the carnage.
Another footage seemed to suggest that at least two people have fallen from the sky.
It has not been confirmed whether the two incidents are linked or if the US Air Force craft was in fact landing when people jumped onto its side.
Also, from the ground, a graphic image is seen apparently depicting the remains of one of the bodies which fell from a plane.
There has been pandemonium in the Afghanistan capital. Footage shows traffic gridlock as some residents try to flee by road. There was also congestion for those traveling on foot.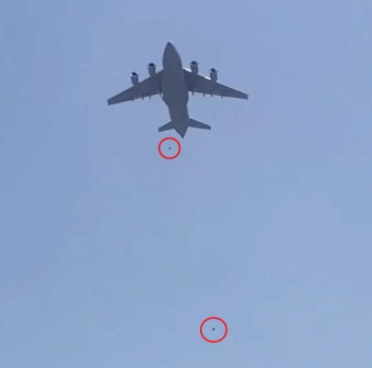 At the airport, it was no different. On the civilian side of the airport, chaos has been reported and there have also been reports of gunshots. This has led to massive overcrowding at the airport in Kabul, where civilian flights have now been halted but military airlifts were still ongoing earlier.
Countries across the globe are evacuating their nationals and civilians desperately attempting to flee.
The speed of the Taliban's advance has taken many by surprise, leaving thousands rushing desperately to escape.
Below are videos from Kabul showing people struggling to flee due to the insecurity in the Afghan capital: