Watch The Moment Israeli Missile In Gaza Destroyed Aljazeera, Associated Press Media Building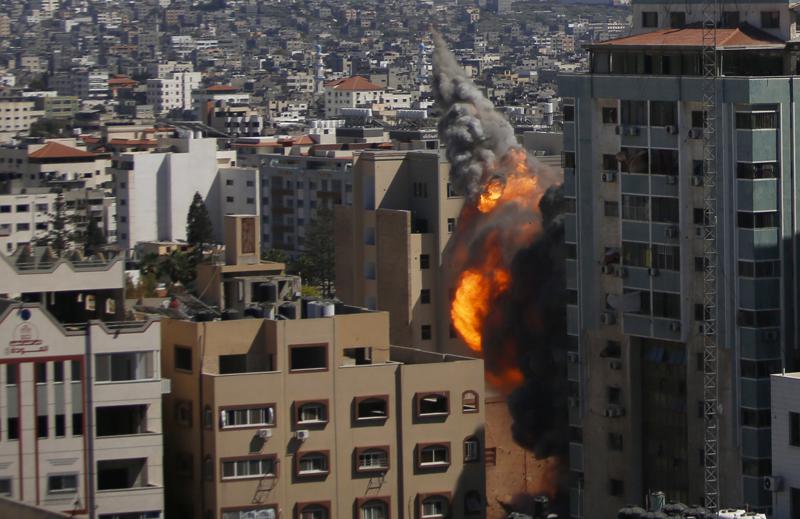 An Israeli airstrike targeted and destroyed a high-rise building in Gaza City that housed offices of The Associated Press, Aljazeera and other media outlets.
Infoexpert24 reports that this happened hours after another Israeli air raid on a densely populated refugee camp killed at least 10 Palestinians from an extended family, mostly children, on Saturday.
The strike on the high-rise came nearly an hour after the military ordered people to evacuate the 12-story building, which also housed Al-Jazeera, other offices and residential apartments.
The strike brought down the entire structure, which collapsed in a gigantic cloud of dust. There was no immediate explanation for why it was attacked.
The 11-storey residential building called Al-Jalaa has now collapsed. pic.twitter.com/VUFxxJCuW3

— Arwa Ibrahim (@arwaib) May 15, 2021
 The earlier Israeli airstrike on the Gaza City refugee camp was the deadliest single strike of the current conflict between Israel and the militant group Hamas. Both sides are pressing for an advantage as cease-fire efforts gather strength.
The latest outburst of violence started in Jerusalem and spread across the region over the past week, with Jewish-Arab clashes and rioting in mixed cities of Israel. There were also widespread Palestinian protests Friday in the occupied West Bank, where Israeli forces shot and killed 11 people.
The spiraling violence has raised fears of a new Palestinian "intifada," or uprising, when peace talks have not taken place in years.
The strike on the building housing media offices came in the afternoon, after the owner received a call from the Israeli military warning that the building would be hit. AP's staff and others in the building evacuated immediately, and were reported safe.
Al-Jazeera, the news network funded by Qatar's government, broadcast the airstrikes live as the building collapsed.
"This channel will not be silenced. Al-Jazeera will not be silenced," an on-air anchorwoman from Al-Jazeera English said, her voice thick with emotion. "We can guarantee you that right now."
Watch the owner of al-Jalaa tower pleads with an Israeli officer on live TV to let journalists collect their gear before he bombs it below;
WATCH: The owner of al-Jalaa tower pleads with an Israeli officer on live TV to let journalists collect their gear before he bombs it.

Moments later, Israeli air strikes demolish the #Gaza building that housed several international media offices, including #AlJazeera and MEE pic.twitter.com/Sf5PM3UN7P

— Middle East Eye (@MiddleEastEye) May 15, 2021