The General Overseer of Christ MercyLand Deliverance ministry Warri Delta state Nigeria, Popularly known as Owomowomo1 gave a prophecy concerning the Aso Rock invasion on the 10th of January 2021.
The man of God made emphasis on "betrayal and confusion in Aso Rock". In confirmation to the words of the man of God, On the 9th of May 2021, 5 months after his Prophecy, it was reported that armed men suspected to be robbers invaded the Aso Rock. The attack took place at 3am. The incident reportedly occurred in the building housing the chief of staff, Ibrahim Gambari and Abubakar Milani, the Admin Officer. It is not clear whether or not valuable documents of state interest where carted away by intruders but report says that the residence was duly ransacked.
The man of God had mentioned betrayal and even though Aso Rock is the most secured place in Nigeria, yet it was invaded. This clearly confirms what the man of God said about betrayal in Aso rock. The man of God also made mention of confusion in high places.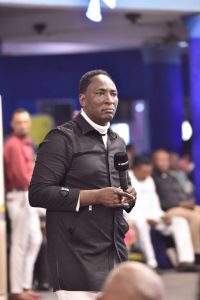 Recall during the report of the incident by online media and the Presidential aides, there was so much confusion as different versions of the incident were reported. Some online platforms reported that robbers gained access and took away as much as possible from both places of which security officers confirmed.
Another statement by Bashir Ahmad had debunked the report on tweeter calling it fake news. Soon after that, Garba Shehu also reported that Chief of Staff Prof. Ibrahim Gambari confirmed that there was a foolish attempt to burgle his residence at wee hours but It turned out to be unsuccessful.
This is a major concern to the general public as it has left everyone confused just as the man of God declared. 2 Chronicles 20:20 "… Believe in the Lord your God, so shall ye be established; believe his prophets, so shall ye prosper".