Ninjas Are Super Excited As Nengi Launches Her Shoe Line, Shoes By Flora
Fans of Big Brother Reality star, Nengi cannot contain their joy as their role model and fave launched her shoe line called Shoes By Flora.
Nengi took to her verified Instagram page to make the announcement.
She wrote:
"I woke up this morning and I couldn't believe Friday (16.04.2021) is here already phew! Looking back at the hard work, sleepless nights, time and money invested in this project, I am beyond elated to finally present to you all what I have been working on. The relaunch of shoesbyflora (SBF) has been a project after my own heart because this was my first business and project I embarked on with a leap of faith even before I became a brand, not knowing what to expect and having little or no knowledge of the industry/entrepreneurship. However, coming out of the show and seeing the love SBF received even with no readily available products, I was convinced SBF is here to stay and decided to work extremely hard to make it a house hold name .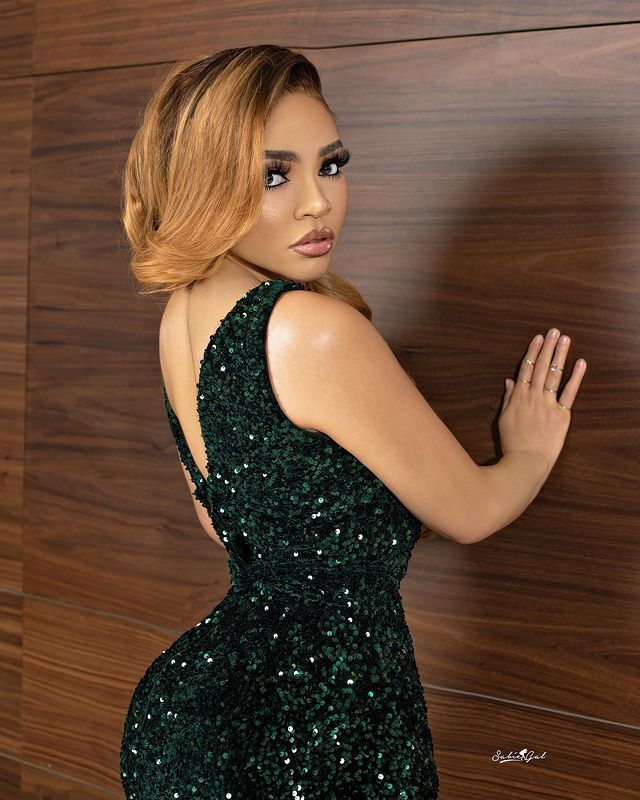 It hasn't been an easy one as I embarked on this project at a very busy time in my life but hey… who said entrepreneurship was a smooth ride?.. I am so glad I didn't give up and I want to say a very big Thank You to everyone who worked with me on this Relaunch project . I am beyond grateful to each and everyone of you . To my amazing Fanmily, my Team and Management, I say a very big thank you! Your support really kept me going .
On this note, join me as I officially Relaunch @ShoesByFlora ! My baby and my most precious investment ❤️. I hope everyone finds a unique pair to showcase their elegance on legs ! 💕. The website will be officially opened for shopping at 17:30 G.M.T +1″
You can watch the Video below;
View this post on Instagram
 Below are some of the reactions on Twitter;
Shoes by flora is finally here!!!

CONGRATULATIONS NENGI 🎈🎈@nengiofficial

TNT you have one job today and that's to support. Let's crash the site shall we!! @ShoesByFlora pic.twitter.com/pNUrCoXyfG

— The Neotribe (TNT🧨) (@Neodaily1) April 16, 2021
So proud of @nengiofficial you could tell she put a lot of hard work, money and time on Shoes By Flora.

God bless this beautiful brand, the team and it's elegant customers. #ShoesByFloraIsHere to stay.

CEO NENGI
SHOP SHOES BY FLORA
ELEGANCE ON LEGS
NENGI THE SHOE BOSS

— AE (@AssistantEbukaa) April 16, 2021
Ninjas get ninjas get in here 🗡🗡🗡🗡
💃🗡🗡

SHOES BY FLORA RELAUNCH
ELEGANCE ON LEGS
NENGI THE SHOE BOSS
SHOP SHOES BY FLORA
CEO NENGI #ShoesByFloraIsHere

Flat. Or. Heels pic.twitter.com/giyCndzV9I

— Touch Not My Nengi (@Olivia_Payure) April 16, 2021
I hope all your devices are ready. It will be bloody on that site o, first come first serve 🤣#ShoesByFloraIsHere
SHOES BY FLORA RELAUNCH
ELEGANCE ON LEGS
NENGI THE SHOE BOSS
SHOP SHOES BY FLORA
CEO NENGI

— Chiamaka 🤭 (@_Ceksi) April 16, 2021
Ninjas we have 7 trends on the table and we've not even seen the real deal 🙌🏽🙌🏽🙌🏽.

CEO NENGI
CONGRATULATIONS NENGI
CONGRATULATIONS QUEEN
CONGRATULATIONS BLUEPRINT
ELEGANCE ON LEGS
NENGI THE SHOE BOSS#ShoesByFloraIsHere pic.twitter.com/OqjdYz1VwK

— 𝓑𝓾𝓷𝓶𝓲 𝓐👑🗡 (@ms_bhunmy) April 16, 2021
Our president said we should run it
Omo , E choke E strangle 😭
Don't forget to watch ffm#ShoesByFloraIsHere
SHOES BY FLORA RELAUNCH
ELEGANCE ON LEGS
NENGI THE SHOE BOSS
SHOP SHOES BY FLORA
CEO NENGI
CONGRATULATIONS QUEEN
CONGRATULATIONS BLUEPRINT
CONGRATULATIONS NENGI pic.twitter.com/ZSPnGJ0reb

— shall w begin 30th April pre_order (@Nashluv23) April 16, 2021
#ShoesByFloraIsHere
Welcome to SBF ERA,the shoes that will walk you into great places🔥.

SHOES BY FLORA RELAUNCH
ELEGANCE ON LEGS
NENGI THE SHOE BOSS
SHOP SHOES BY FLORA
CEO NENGI pic.twitter.com/4FrCTpHfck

— NENGI THE CHOKER MACHINE ⚔️🗡 (@Pearlybee4) April 16, 2021
Goshh!!

This caption is everything 😰😰

I'm proud of you @nengiofficial @ShoesByFlora will be a great success 🕯️🕯️🕯️#ShoesByFloraIsHere
SHOES BY FLORA RELAUNCH
ELEGANCE ON LEGS
NENGI THE SHOE BOSS
SHOP SHOES BY FLORA
CEO NENGI pic.twitter.com/gz41lIMJPT

— I MUST WEAR SHOES👠 BY FLORA🙏 (@CelebrityChizzy) April 16, 2021
#ShoesByFloraIsHere
D purpose of Nengi goin to BBN was to introduce SBF to d world,started small becox she broke a heel during MGBN,& she said to put out shoes 4 girls so de get to walk comfortablely🥺
SHOES BY FLORA RELAUNCH
NENGI THE SHOE BOSS
SHOP SHOES BY FLORA
CEO NENGI pic.twitter.com/dpI1BimvGw

— NENGI THE CHOKER MACHINE ⚔️🗡 (@Pearlybee4) April 16, 2021