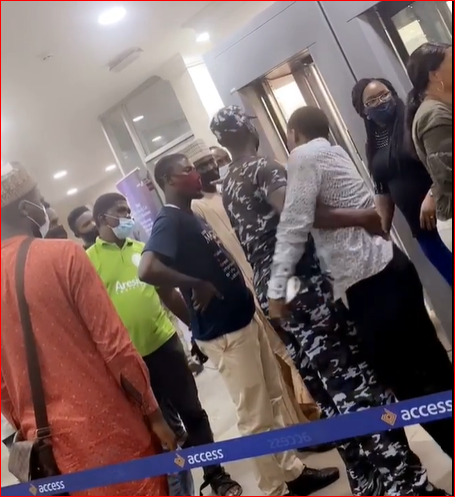 A yet to be identified man has created a scene inside the banking hall of Access bank Chevron branch of Lagos state after being scammed of 100k by money doublers.
From the video which was first shared by one @Ritaacooks  on Instagram which has since gone viral on social media, the man was seen  making demands to the bank operators to be refunded of his lost money as a policeman on duty was trying to calm him down.
There are army of malicious actors fronting as bankers who are on the prowl, promising near-instant returns to unsuspecting targets and Naivete, greed or ignorance, are varying reasons why anyone would fall victims to these scammers.
Below is the post as seen on @@Ritaacooks page and also instablog;
So this guy got a call from online scammers claiming to be access bank representatives to send 100k and receive a million naira after 2hours which he did without hesitation(cos obviously people are greedy)! After waiting for a while and the so called "representative" didn't get back to him, he realized he was scammed and came to the access bank (chevron branch) to ask for his 100k or 1million, the bank said they can't do anything about it Cos he's a first bank customer! But obviously the man wasn't having it😂😂😂
Pls, be careful and avoid being greedy!
#what I saw on Thursday wasn't funny , like he nearly fought with everyone🤣🤣🤣
Watch the video below;
View this post on Instagram