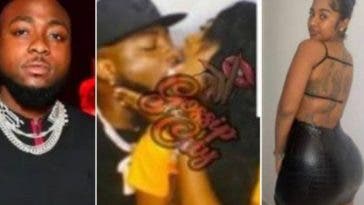 Nigerian singer Davido's rumoured new girlfriend, Mya Yafai has deactivated her Instagram page, after he was spotted kissing her in new photos.
In the photos that have become a growing sensation since it was first shared, Mya Yafai, who was spotted with Davido some weeks back was seen having so much fun with the singer
The account of the Instagram model and actress with over two hundred thousand followers was deactivated on Tuesday, March 30, 2021.
Recall that Yafai shared video of her visit to Lagos and Ghana between December and January, which was the same time Davido was in Nigeria and Ghana.
This unclear move from Davido and Yafai, led to outrage as fans questions Davido's relationship/engagement to his 'fiancee', Chioma Rowland. Many Nigerians also trolled Yafai for breaking up Davido and Chioma.
Immediately after the news got media attention, the model deactivated her account which has led to fans speculating that the relationship between Davido and Yafai is true, while others says the new couple's relationship is only for the promotion of a music video.
Prior to the deactivation of the account, Yafai had almost 270k followers and 181 photos on the page.
The model began making the headlines after she was spotted with the music star back in February while he was vacationing in the Caribbean.
Yafai isn't a newbie in the celebrity world as she used to date American rapper Young M.A.
Yafai is a model, actress, radio personality and YouTuber.