Being loved as a celebrity is a huge deal and Big Brother Naija star and winner of the 5th season of the show, Laycon has experienced loads of it. He has achieved another huge feat after his epic win almost a year ago as he hit 3 million fans on the popular social media website, Instagram.
Laycon has attracted the love and dedication of his massive fanbase called the Icons and that has transcended into other facets of his life like his endorsements and followings as well. He took to his other social media website, Twitter to appreciate his fans for their undying love to him.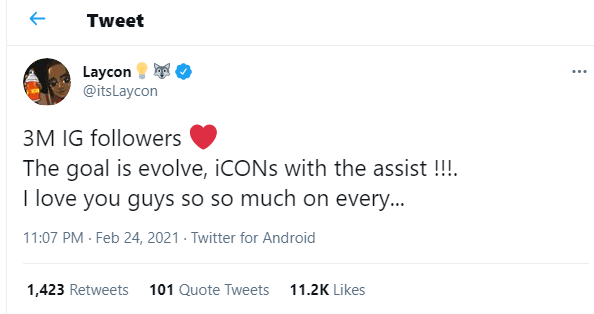 As a celebrity, having a dedicated fanbase is pivotal to your success and growth. These fans are those that can experience some sort of emotional attachment to a particular star. Though it can vary from mild to extreme and even bother on obsession, it is very alive and is characterized by a strong and overwhelming social bond with that celebrity. Laycon has all of these and more. He is, indeed, very lucky.
Congratulations to him!