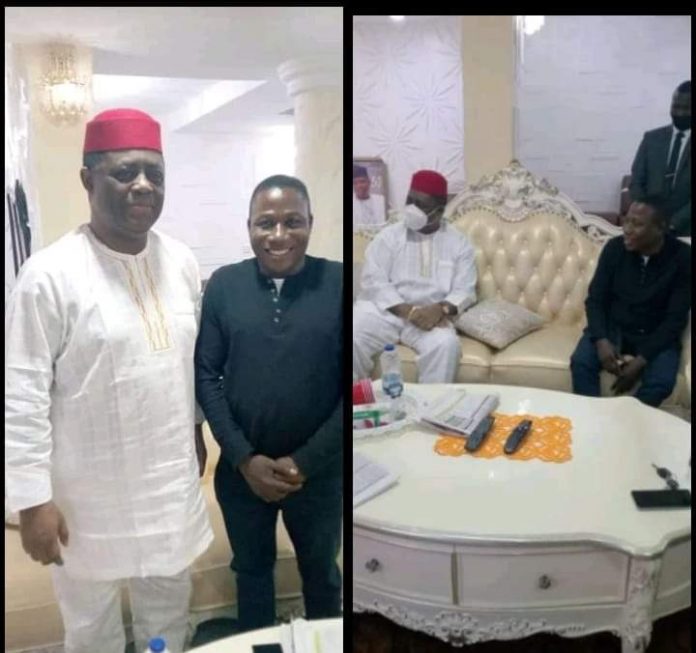 Former Aviation Minister, Femi Fani-Kayode on Thursday, February 18, met with Yoruba activist, Sunday Igboho, in Ibadan the Oyo state capital and some Nigerians are not happy about the sudden friendship.
It's no news that Femi Fani-Kayode, also known as FFK is a big fan/supporter of Sunday Igboho, the Yoruba human rights activist and anti-criminal herdsmen fighter. The former aviation minister has backed the activist almost through all his actions.
Taking to his Twitter handle, Femi Fani Kayode shared photos of the visit with the caption;
I had a wonderful lunch and a very fruitful and productive meeting with my friend and brother Chief Sunday Adeyemo (aka Sunday Igboho) in his beautiful Ibadan home today. He is truly impressive and very passionate. May God be with him, his family and his entire household. pic.twitter.com/QEsfKspTuA

— Femi Fani-Kayode (@realFFK) February 18, 2021
 In January, he gave an eviction order to Fulani herdsmen in Oyo state over allegations that they were behind criminal activities in the state.
FFK and Igboho's meeting took place in Ibadan, Oyo state.
It can be recalled that on February 8, Igboho warned the Federal Government over his frozen bank accounts as he rejected award of recognition from the Yoruba Youth Socio-cultural Association (YYSA) .
During his meeting with the leadership of the Yoruba Youth Socio-cultural Association (YYSA) in Ibadan, Igboho alleged that all his bank accounts have been frozen by the Federal Government because some people were collecting donations, saying he had no hands in it.
The activist also warned the government to unfroze his bank accounts, to a avoid nationwide protest by youths across the southwest region.
He also slammed those collecting donations on his behalf, says he never asked anyone for donations. This came after a Go Fund Me was opened for him.
From FFK's comment section, it shows that some Nigerians are not happy with his vist. Check out their reactions below;
Imagine, this person had to use a wonderful man's name to as a cover up. May God punish you for this impersonation. That is all I am concerned about. @onyekaubani please sir reject this person openly, even though we know he's a GOAT.

— Myke4zion (@mykezion) February 19, 2021
This chase of electoral value and relevance ehn…I don't think you have really done well to make even a 5 year old wish to want to vote for you into any office. You are neither here nor there. What do you stand for gan sir?

— Ehis Osaigbovo (@danbusky) February 19, 2021
You are dinning and winning while the fulanis are slaughtering your people, many are in pain and sorrows…tufiakwa mtsheeew

— Agnes@GODCHOICE (@Agnes_Afuzie) February 19, 2021
Two evil slayers. After unleashing mayhem on innocent souls in Ibadan.

— Habeeb Lawal (@Habeeby212) February 18, 2021
Weytin kayode go do for Sunday house no concern me,But the only advice I will give SundayIgboho is dat,He need to be very careful for this man called @realFFK o because someone like this man called @realFFK can not be trusted https://t.co/Z1BdYAIeYR I don talk my own.Ire ooo

— Prince Dr (@PrinceDeeTP) February 19, 2021
Please who knows Mr Sunday to tell him to run away from dis two sided mouth or else hmmmm

Mr Sunday run from dis man …

— Megastar (@Fohiss32Ohis) February 18, 2021