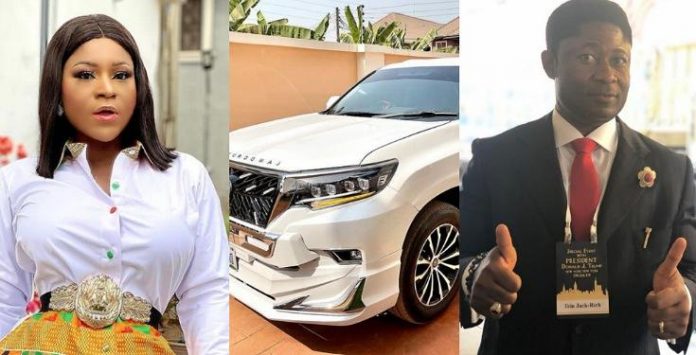 Nollywood actress, Destiny Etiko has reacted to claims by many on social media that her brand new Toyota Land Cruiser, was bought by a married oil businessman.
The actress has sworn with her life and that of her mother that she has never met the billionaire oil mogul, Jack Rich who many have alleged bought her a new car which she recently posted.
 Infoexpert24 recalls that the curvy actress acquired a Toyota Land Cruiser Prado VXR and posted it on her social media page.
Destiny Etiko shared series of photos and a video of the new whip which has a plate customised with the inscription; "Drama Doll."
After posting the new whip, drama ensued on social media as users claimed that she got the car after having an affair with a married business man.
Destiny Etiko has now reacted to the claims, as she made a video denying the allegations and also laying a curse on those spreading the claims. She said in the video;
'A lot has been going on. A lot has been flying on the internet ever since I posted my vehicle. I haven't rested and I do not know why. I had wanted to keep quiet because a clear conscience fears no accusation but things kept coming up as if I have done something wrong.
So I am here to clear the air. I dont know this man you people speak of. I have never met him in my entire life.
"I swear with my life. I swear with everything I hold sacred. Infact, apart from my life, another person I hold so dear to my heart is my mother. I swear with my mother's life. If I have ever met this man or him giving me any money or him sponsoring my projects or him even buying me a car, let it not ever be well with me and my generation but if not, this people cooking this whole thing up, the blogs sponsoring it, it shall never be well with you all and your entire generation"
She made an emotional video on Instagram to address the claims.
See the video below;
View this post on Instagram