Hundreds of youths are gathered at the Murtala Muhammed Airport Lagos Access toll gate in protest of the ongoing police brutality and #EndSARS campaign that has been ongoing in Nigeria.
An eye witness who recorded the video stated that everywhere is blocked by the protesters. Reports also indicate that the protests have remained peaceful with no indication of violence.
Watch the video below;
However, traffic disruptions are likely, especially where there is few presence of security personnel. Routes linking the airports are also experiencing traffic congestion as some travellers are likely to miss their flights.
Deputy commissioner of police in charge of operations addressing the protesters.
A heightened security force presence and localized travel disruptions should be anticipated in the vicinity of the protests in the next few hours.
Protesters shut down Lekki Toll Gate
There is massive gridlock at Lekki Toll Gate as #EndSARS protesters shutdown the expressway on Monday morning.
The #EndSARS protesters hit the Lekki Toll Gate section of the Lekki-Epe Expressway, Lagos State, to resume demonstrations despite the disbandment of the Special Anti-Robbery Squad of the Nigeria Police Force.
The Inspector-General of Police, Mohammed Adamu, on Sunday afternoon, announced the disbandment of the police unit after days of online and offline protests.
But the protesters on Monday want the authorities to carry out psychological evaluation and re-training of all disbanded SARS officers before they are redeployed.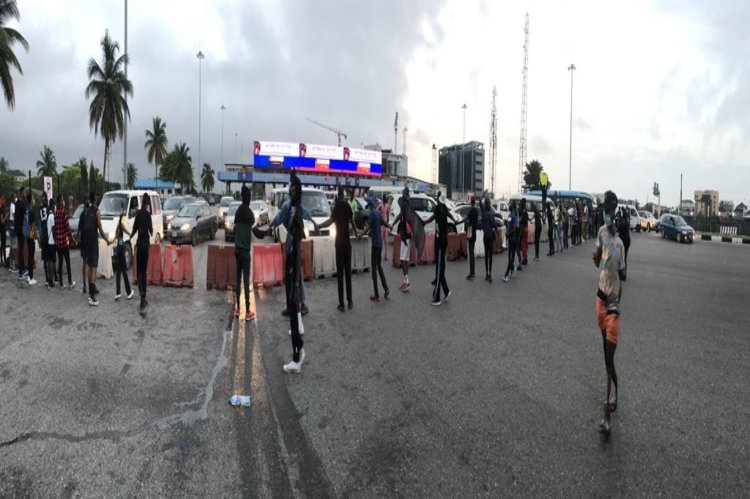 They also demanded the release of all arrested protesters, justice for all deceased victims of police brutality and appropriate compensation for their families.
The protesters also called for increased salaries for police officers and the establishment of an independent body to oversee the investigation and prosecution of all reports of police misconduct within 10 days.